Multifunction Protection Relay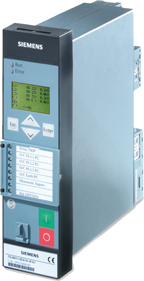 The SIPROTEC Compact 7SJ80 relays can be used for line/feeder protection of high and medium voltage networks with grounded, low-resistance grounded, isolated or a compensated neutral point. The relays have all the required functions to be applied as a backup relay to a transformer differential relay.

The 7SJ80 features "flexible protection functions". 20 additional protection functions can be created by the user. For example, a rate of change of frequency function or a reverse power function can be created.

The relay provides circuit-breaker control, additional primary switching devices (grounding switches, transfer switches and isolating switches) can also be controlled from the relay. Automation or PLC logic functionality is also implemented in the relay. The integrated programmable logic (CFC) allows the user to add own functions, e.g. for the automation of switchgear (including: interlocking, transfer and load shedding schemes). The user is also allowed to generate user-defined messages.

Protection functions

Time-overcurrent protection (50, 50N, 51, 51N)

Directional time-overcurrent protection (67, 67N)

Sensitive dir./non-dir. ground-fault detection (67Ns, 50Ns)

Displacement voltage (64)

High-impedance restricted ground fault (87N)

Inrush restraint

Undercurrent monitoring (37)

Overload protection (49)

Under-/overvoltage protection (27/59)

Under-/overfrequency protection (81O/U)

Breaker failure protection (50BF)

Phase unbalance or negative-sequence protection (46)

Phase-sequence monitoring (47)

Synch-check (25)

Auto-reclosure (79)

Fault locator (21FL)

Lockout (86)

Control functions/programmable logic

Commands for the ctrl. of CB, disconnect switches (isolators/isolating switches)

Control through keyboard, binary inputs, DIGSI 4 or SCADA system

User-defined PLC logic with CFC (e.g. interlocking)
| | | |
| --- | --- | --- |
| | | |
| | | |
| --- | --- | --- |
| | | |
Application



The 3WL9111-0AT44-0AA0 circuit breaker test device is used to

test the functions of the SENTRON 3WL low-voltage circuit breaker.

For the ETU15B, ETU25B, ETU27B, ETU45B, ETU55B and

ETU76B overcurrent releases of the 3WL circuit breaker, the circuit

breaker test device can be used to:

• Measure the operating currents and tripping times.

• Check the protection functions for the three phases and

the neutral conductor.

• Verify the function of the tripping solenoid.

• Check the function of the ground-fault protection.

• Measure the opening time of the circuit breaker and to

• Check the trip causes.

The circuit breaker test device generates either a one or two-phase

test voltage that reproduces the output signal of the current sensors

(Rogowski coils). The test voltage is fed into the incoming circuit of

the current measuring device (L1, L2, L3 and N) as either onephase

or two-phase (180° phase shift) voltage. The level of the

simulated test current is infinitely variable from zero to 150 kA in

four ranges.

Note: A two-phase test voltage infeed is required if the ground fault

release is not deactivated.

The setting range of the test current allows the characteristic curves

of all electronic overcurrent releases (ETU = Electronic Trip Unit) to

be checked. Therefore, the device does not normally require the

settings of the electronic overcurrent releases to be altered.

This circuit breaker test device is equipped with a display for setting

the required test current.

The circuit breaker test device takes the frequency dependency of

the test voltage of 50 and 60 Hz appliances into consideration. The

tripping and opening times are also indicated on the test device

display. For carrying out the tests, the overcurrent release can either

be mounted in the circuit breaker or, in special cases, it can be

tested separately. However, the release has to be mounted in the

circuit breaker for testing the tripping solenoid and the opening

times of the circuit breaker.
Motor Management and Control Devices SIMOCODE pro

More powerful, easy to handle and flexible

How can faults in automated processes and costly plant downtimes be prevented? What is the best way to avoid faults in your system or detect pending errors at an early stage? Our answer: smart motor management with SIMOCODE pro – a reliable partner since 1986.

SIMOCODE pro is the flexible and modular motor control system for low-voltage motors. It can easily and directly be connected to automation systems via PROFIBUS DP and covers all functional requirements between the motor starter and the automation system – including the fail-safe disconnection of motors. Further, SIMOCODE pro combines in just one compact system all required protection, monitoring, safety and control functions. The motor management system thus helps you to increase the process control quality and reduce costs at the same time – from planning through installation right to operation or service of a plant or system.